Commercial Roofing Contractor in Charlotte, Gastonia, Fort Mill and Nearby Cities in NC & SC
Providing Commercial Roof Repairs, Installation & Services for Building Owners & Property Managers for over 97 Years!
As a business owner, you want your facility to be an efficient, comfortable place to work. That means your building needs a sound roof that will protect your assets as well as your peace of mind.
GSM was founded in 1927 as a sheet metal company. We have now grown to be the most trusted & reliable commercial roofing and HVAC company in the region. At GSM, we have proven processes built over decades of serving clients to make sure you get the solution you need on a schedule that works for you.
If you need repairs or replacement for your commercial roof, or simply want to ensure your existing roof is in good condition, call your local, trusted roofing experts at GSM Services today.
The commercial roofing experts at GSM Services are here to help you ensure your building has a solid, durable roof. We provide complete roof repair and replacement services for a wide variety of roofing materials, and we will make sure your business stays dry and protected. Call us today at (704) 864-0344 or click below to get a free estimate on all our commercial roofing services in North Carolina!
Commercial Roofing Services We Offer:
Why Choose Us?
Experienced Professionals: Our team of roofing experts specializes in commercial roof replacement. We have a proven track record of successful projects.
Quality Materials: We use high-quality, durable roofing materials to ensure your investment lasts for years to come.
Timely and Efficient: We understand the importance of your business operations. We work efficiently to minimize disruptions.
Competitive Pricing: Quality doesn't have to come at a high cost. We offer competitive rates to fit your budget.
Satisfaction Guaranteed: Your satisfaction and needs are our top priority. We stand by our work with a satisfaction guarantee.
Commercial Roofing Services to Exceed Your Expectations
We've been taking care of our customers' comfort since 1927 with a team of experienced installers and project managers, many with more than 30 years at GSM alone. We are constantly training our team on the most current industry trends and advancements. This unmatched experience has led us to build reliable processes to serve you including immediate scheduling, consistent follow-through, and guidance to help you choose the right option. We work closely with all members of your team, contractors, designers, and architects, to deliver the solution you expect on your roof services. We will offer multiple solutions to find the one that works best for your budget and comfortability.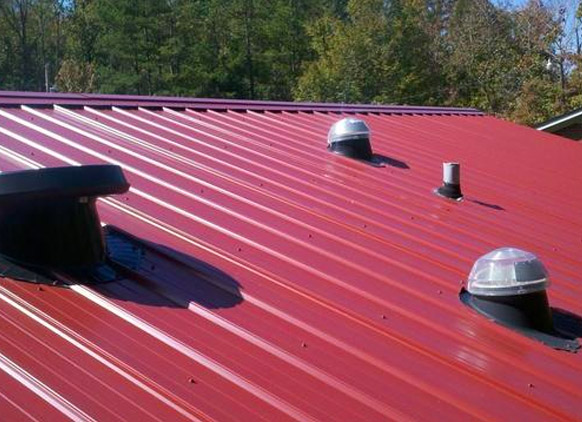 When it comes to protecting your commercial property, the roof is your first line of defense.
Once you have a commercial property, you need to keep regular maintenance in mind. Your roof gets a lot of wear and tear. Harsh weather can bring obvious damages, but the day-to-day stress of sun, wind, rain, and other small-scale elements can also build up over time.
How long has it been since your roof was inspected by a professional? As much as you may not want to deal with a roofing problem, even the smallest sign of damage could indicate a significant problem that will only get worse over time.
Even if there is not obvious external damage, letting too much time go by without a routine maintenance plan in place can be dangerous. GSM Services technicians can offer insight about the best ways to keep your roof in good condition and some of the common visual clues to be on the lookout for.
Commercial Roofing Inspections & Service Experts
Is your roof doing its job? There may not be an apparent sign of damage from the elements, but the internal lining of commercial roofing is still responsible for regulating the indoor temperature.
If hot or cold air escapes through the roof of your building, you could be losing considerable amounts of money each month on an unseen and hard to spot problem. The best way to take care of your roof is to have regular inspections from professionals who know what they are looking for.
Your Top Quality Local Commercial Roofers
If you need repairs or replacement for your commercial roof, or simply want to ensure your existing one is in good condition, call the local roofing experts at GSM Services today! We have the right solution for all your roofing needs in Charlotte, Gastonia, Mount Holly, Fort Mill, Huntersville, Denver, Matthews, Hickory, Gaffney, Lincolnton, Rock Hill and the surrounding areas.