About GSM Services
GSM Services has been in business since 1927, providing high-quality home and commercial improvement services to the Greater Charlotte area. We offer a wide variety of services for residential and commercial properties, including heating and cooling, insulation, and roof repair and replacement.
With extensive experience providing outstanding quality and service, we are the North Carolina contractors you can trust. When you work with us, you can always count on exceptional craftsmanship and fantastic customer service. We look forward to the opportunity to serve you and your home or commercial property.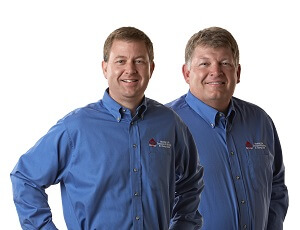 Steven and Joel Long, co-owners of GSM Services
About the Owners
NC State graduates Steven and Joel Long are brothers and co-owners of GSM Services, which is located in Gaston County and has been in business since 1927. They learned the business working with their father and are the third generation in their family to lead the company.
Joel is President of the Commercial Division, which includes Commercial HVAC and Roofing. Steven is President of the Residential Division, which includes Residential HVAC and Dr. Energy Saver.
In addition to a strong work ethic, both Steven and Joel are involved in community organizations that include the Rotary Club, the Community Foundation, the Boys and Girls Club, Cancer Services, and the Gaston Chamber. They share one vision: to develop lifetime customers by providing quality work and the ultimate service experience in everything they do.
Our History
GSM Services is a third-generation company that has been in business since 1927. It originally started out as a small sheet metal shop and metal roofing company by W. Fred Long. He later passed the business to his son Ronald J. Long, Sr. in 1971, who then passed it to his sons Steven and Joel in 2005.
As the company expanded over the years, we took to duct fabrication, commercial roofing, commercial and residential HVAC, and energy services. We are proud of the ways our company has grown as well as the fact that we have never lost touch with our roots or sacrificed quality or service. We are excited about the future that we have in the Greater Charlotte community.
Affiliations & Accreditations
Below are just some of our affiliations and accreditations. To see them all, click here!
Our Mission
At GSM Services, our mission is simple: To provide comfort and peace of mind to every customer, on every call, every day. Our vision is to develop lifetime customers by providing quality work and the ultimate service experience in everything we do. We always do what we say we are going to do when we say we are going to do it. We will provide the best possible working environment for our co-workers while planning for growth each year to maintain the company's long-term success.
We understand the importance of family values, building relationships with our customers, and always providing the best services available. It's how we've been so successful for nearly a century, and we look forward to continuing to bring our values to our customers.
Community Involvement
GSM Services understands the importance of giving back to the community, and we are proud of the opportunities and partnerships we've had over the years. One of our favorite methods is through our pink van. This van is used for many projects, and proceeds from work performed using the van goes to Cancer Services of Gaston County.
Over the years, we have also had the opportunity to work with charitable organizations such as United Way, the Gaston County School System, the Boys and Girls Clubs of Greater Gaston County, Salvation Army, and the Shelter of Gaston County. We are proud of the impact we've been able to make in our community, and we look forward to future opportunities to give back.