HVAC Services For Commercial Buildings Near Charlotte and surrounding areas
Your experts in Commercial HVAC system maintenance, installation, and repairs.
At GSM Services, our aim is to earn and keep your business by providing comprehensive commercial HVAC services at fair, affordable prices. Our services encompass the following areas:
HVAC system design & project management
HVAC system maintenance & repair
HVAC system replacement
New HVAC installations
If you need HVAC repair or installation services for your commercial property, contact the experts at GSM Services today. We proudly serve Huntersville, Gastonia, Mount Holly, Fort Mill and the surrounding area. Give us a call today!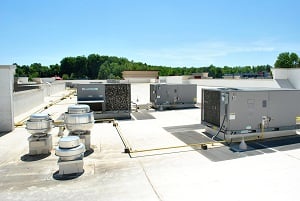 HVAC system maintenance, repair & replacement. GSM Services provides quick and comprehensive commercial HVAC services.
Keep your business running comfortably & efficiently
Quality HVAC repairs, maintenance, installation and systems designs in North Carolina
As a business owner, you want your facility to be an efficient, comfortable place to work. That means your building needs an efficient heating and cooling unit to keep your comfortable as well as protect your assets.
When something goes wrong or it's time to upgrade, most contractors are difficult to contact, impossible to get on your schedule, and unable to guide you to make the best decision.
Your comfort and protection should never be dependent on contractors who don't make your business a priority.
At GSM Services, we've worked with thousands of businesses and understand how frustrating it can be when you can't get someone to show up and solve your problem.
We've been taking care of our customers' comfort since 1927 with a team of experienced technicians, many with more than 30 years at GSM Services alone. This unmatched experience has led us to build reliable processes to serve you, including immediate scheduling, consistent follow-through, and guidance to help you choose the right option for your needs.